"忍者"潜剑的武道术 Robert Worth, Ninja's Martial Arts  
采访时间:2017年10月11日 Interview Date: October 11, 2017 
Robert Worth,常被唤作Robbie,中文名"潜剑",来自美国俄亥俄州。六岁开始学武,曾学过跆拳道、体术(Taijutsu)以及多个国家的各门派武术,目前在武神馆(Bujinkan)武道体术中达黑带六段。2006年初次来蓉,2012年起常居于此。
Robert Worth, aka Robbie, comes from Ohio, USA, and gave himself the Chinese name "Qian Jian." When he was six years old, he started to learn Taekwondo, Taijutsu and all kinds of international martial arts. He is a 6th Dan Black Belt in Bujinkan Budo Taijutsu. Following his first visit to Chengdu in 2006, he decided to make a move to this city in 2012.
※
我知道门外有人,但我静坐不出,是为忍者。
I know that there is someone outside, yet I make no move, for I am a ninja.
你真的是忍者吗?
Are you a real ninja?
九月,成都一所国际学校做了以"泼水节"为主题的校庆,现场热闹非凡,斑斓的水气球飞窜,大人与小孩共欢。但见人群中有个外国男子,一身素黑宽袍、腰上系带、脑后留辫,驮着个鼓鼓的大黑塑料袋,步子轻快地穿过人群。他也备了许多水球,用来玩Water Ninja(水球忍者)的游戏。玩法嘛,顾名思义,即结合一些武道术的招数玩水球。围成一圈的二三十来人,基本上是毫无功夫底子的"路人",最终呈现不过是花拳绣腿,仅供娱乐。然而,武术对Robbie来说,可是一辈子严肃对待的事。
In September, a founding anniversary themed "Water-sprinkling Festival" kicked off at a Chengdu international school. Crowds of children played joyfully with their parents, hurtling water balloons with dazzling colors in all directions. Suddenly a foreign man comes amidst the crowds. He, in a plain black belted robe and his hair in braids, pushes his way through crowds with springy steps, a big fatty black plastic bag on his back. He prepared many water balloons for the game Water Ninja, which is what its name suggests, combining martial arts with water play. There were twenty or thirty players in a circle, most of whom were absolute beginners in martial arts. To them, martial arts is just for fun, with some showy elements and nothing practical. For Robbie, however, martial arts are his life's pursuit.
我不禁好奇:"你真的是忍者吗?" Robbie笑而不语。
"算是吗?" 我追问道。
Out of curiosity, I blurted out, "Are you a real ninja?" Robbie replied with just a smile.
"Do you consider yourself as a Ninja?" I had another try.
"忍者很流行,人们喜欢这个概念。但是人们并不了解。忍者更多的是潜藏而非暴露,是关于生存而非战斗。" Robbie的回答,让我意识到我的追问分明是对"天呐,我认识了一个真的忍者"侥幸的假想。是因影视、漫画、坊间传闻等艺术演绎,"忍者"和"忍术"总是带有隐秘离奇的光环。
"Ninja is popular among people. They don't really understand what it is. Ninja is more about hiding than displaying, and more about survival than fighting." Hearing his, I felt that my incessant questioning was clearly driven by a desire to yell out "Oh my! I know a real ninja!" Films, cartoons, books and other embellishments have attached a mystic shroud to the terms "ninja" and "ninjutsu."
"现代忍者"的修行
Cultivation of the "Modern Ninja"
Robbie六岁时,父亲带他去了唐手道道场,开启了他的习武生涯。起初练武,也因为母亲希望运动让他别那么害羞、更擅社交。"10岁时,我很胖,不健康,怪脾气。此后,武术先是改变了我的身体,让我知道与障碍间的距离、如何攻克,而后因为攻克渐渐有了自信。" 高中时代的Robbie沉浸在各类武术书籍的阅读中,也因此知晓了李小龙的咏春和截拳道,并备受鼓舞。此后他学习过多个国家不同门派的武术。2006年首次来华时,他还在成都打听过练咏春的老师。
When Robbie was six years old, his father took him to Tang Soo Do classes, which opened up a world of martial arts for little Robbie. His mother sent him to learn martial arts originally in the hope that martial arts would make him more sociable. "When I was ten years old, I was very fat, unhealthy and weird. Martial arts changed my body first, teaching me how to overcome obstacles, and my mind and confidence gradually strengthened as well." In high school, Robbie became obsessed with all kinds of books on martial arts and also came to learn about Bruce Lee's Wing Chung and Jeet Kune Do, which inspired him a lot. Later, he learned the martial arts of the different disciplines of many countries. During his first visit to China in 2006, he came to Chengdu to look for masters in Wing Chung.
Robbie形容当时的自己是"典型的美国中西部少年",青春期骚动的心使他对武术的关注和理解仅停留在生理层面,如何攻击、出拳、踢,如何使出更酷炫的招数……直到大学里的一次偶遇。那天,Robbie和朋友在公园训练,对面一群黑衣人也正在训练,顿时烟雾弥漫。"我知道这是所谓的烟雾弹,把石灰放在鸡蛋壳里,投掷向你的敌人。忍者们正是用这招来逃生的。" 训练结束后,Robbie专门去问那位老师:"这是忍术吗?" "这是体术。" 其后,Robbie跟着这位老师学习体术,所学体术之中,包括三种忍术。
Robbie describes himself then as "a typical Midwest U.S. youth". Subject to turbulent emotions during puberty, only wanted to know how to attack, punch and kick and look cool, only understanding the physiological component of martial arts until a chance encounter in college.One day, while Robbie and his friends were at a park working out, they saw another group of people in black also practicing. Within a foggy second, they were out of sight. "I knew this was a smoke shell which was eggshell stuffed with limestone and can be used to hurl at your enemy. That was how ninjas escape." Seeing that they had finished their workout, Robbie came up to ask that master, "Is this ninjutsu?" "This is Taijutsu." replied the master. Since that fateful day, Robbie has studied Taijutsu from this master, including three kinds of ninjutsu.
"体术,即身体之道,并没有什么玄妙,就是练习身体的技艺。" Robbie解释后问我:"何以为人?" 而后他在本子上写出了"生理"、"心理"和"精神"三个词,再接着说:"武术,是关于自我的修行。"
"Taijutsu, namely the way of body, is nothing mysterious, and is just a technique to build your body." After his explanation of Taijutsu, Robbie asked me, "What makes you a person?" He writes three words on his notebook, "physical," "Mental," and "spiritual," And then he continued, "Martial arts are about self-cultivation."
隐秘的身体艺术
Mysterious Body Art
跟着Robbie上过一堂课,训练的第一个对抗动作是两人面对面而立,对方用右手擒住我的左手腕,我最简单实用的反击是右手握拳,掌指关节形成的突起使劲摁压在对手右手,很痛。如此简单的巧击,比蛮力有效多了。练习之前,Robbie就格外强调:"不要因为手被控制住了就慌了,然后所有的注意力放在被束住的这只手上,要记得你还有整个身体。" 同理,可运用在人们面对生活的各种问题上。
I took one of Robbie's classes. The first combat exercise of our workout involved two people standing face to face. When the opponent grabbed my left wrist with his right hand, I was taught to make a fist with my right hand and press heavily on his right hand with my knuckles, which was the simple, practical, and also really painful. Such a simple but smart counterattack was much better than brute force. Before the workout, Robbie told me to "Keep calm when your hands are controlled by your enemy and don't just focus on the trapped hand. Remember that you still own your whole body." This advice seems to be applicable when it comes to all kinds of problems that people face in life.
在近距离对抗中,一招一式的空间距离的把控,引导着人的反应,也十足微妙。"你的身体要离对手近一点,他才会想要挥拳打你,远一点,他就换招数了。" 或许因为没了古时浪迹天涯的江湖,人对自己身体的力量、平衡感、协调性、敏锐度等本能失去了深切感知,思维也少了多元的顿悟之路。忍术的特别之一,恰是在实战中以小胜大,不受规则束缚。
During close-range combat, the ebb and flow of space and distance between every movement lead you to decide how to fight back, all of which is very subtle. "When your body is near enough to the enemy, he would be seduced to punch you. If not, he would change his fighting techniques." Perhaps without the pressures of fighting for survival, as our ancestors faced, people have become strangers toward their body strength, balance, coordination, and acuity, which were originally instinctual. In addition, we have lost an acute and diversified mind. In actual combat, ninjutsu, free from any rules, helps the weak excel in defeating stronger foes, giving it a special distinction.
※
Breannah Yeh,空中绳行 Slacklining in the Air
采访时间:2017年12月8日 Interview Date: December 8, 2017
Breannah Yeh,华文名葉嘉韻(繁)。1997年她出生于美国加州,2017年夏天开始,通过USCA计划在西南民族大学进行为期四个月的留学交换生学习。她13岁时开始练习扁带,渐以运动选手身份在世界各地参加扁带比赛。
Breannah Yeh, a.k.a. Ye Jiayun in Chinese, is a 21-year-old girl hailing from California. In the summer of 2017, she began the four-month study abroad program as an international student at the Southwest Minzu University under USAC. At the age of 13, she started practicing slacklining. With time, she made a name for herself as an athlete in slackline contests worldwide.
instagram:yehslacks
※
离开地球表面,在一条宽26mm的尼龙绳索上,她稳妥地站立、行走,轻盈地旋转、跳跃,像欢腾的鸟儿。 她一个转身落地,脸上挂着大大的笑。
On a 26mm-wide nylon slackline above the ground, Breannah Yeh stood on her feet, stepped forward with calmness, twirled and jumped swiftly like a dancingbird. With an almost effortless spin, she landed on the ground, wearing a grin.
扁带森林
Chengdu Slackforest
我不是第一个被他们吸引的人。四川大学的一片小树林前,早已围站了好些人,他们正端着手机或拍或录一男一女两人切换着在绳索上跳来转去、蹦蹦哒哒。 "吃瓜群众"里有声音在说:"哎哟,这两个人还凶哟,都不怕绊(摔)到痛。" 这条尼龙绳索叫扁带,两位练习者是四川小伙子康钶和以交换生身份留学成都的美籍华裔Breannah Yeh。
I was not the only one attracted to them. In front of Sichuan University, there was a grove which had been swarmed by spectators. They were taking photos or videoing when a man and a woman were alternating jumping to and fro on a slackline. "Oh! They are so cool and not afraid of falling." exclaimed one of the spectators. The nylon line was a slackline, and the two players were Kang Ke, a boy from Sichuan and Breannah Yeh, an American exchange student with Chinese origin.
两人看上去很熟络,实则两个月前Breannah才在深圳的一场比赛中认识康钶的朋友。 走扁带是一项新兴运动,除了运动本身足够特别,Breannah最爱的是因运动的小众所建立的社群——几乎可以认识全世界志同道合的专业级玩家。 "当我们一起设置扁带时,我们之间的信任和默契瞬间建立。"Breannah很开心在成都停留的短暂期间里,能认识成都玩家中的佼佼者康钶。
As familiar as they were to each other,  actually Breannah met Ke's friend at a Shenzhen-based contest two months ago. As an emerging sport, slacklining is very special in and of itself. For people that carry the same enthusiasm for the sport, the slacklining community has created a world very close to Breannah's heart. In the slacklining community, she can make friends with like-minded athletes all over the world. "When we together set up the slackline, trust and tacit understanding are cultivated between us." For Breannah, it was such a delight to make friends with Kang Ke during her short stay, who was a second-to-none slackline player in Chengdu.
走扁带在练习时对场地的要求并不高,最简单的是有两棵结实的树。Breannah喜欢离自然和空旷更近一点的地方,所以除了成都市区,两人还搭伴带着扁带装备去过郫都区某处废旧的游乐园。他们置身半空中,用不一样的视角和脚步丈量成都。
Slacklining does not have high requirements for practicingvenues; Itsimply entails two strong trees. Breannah preferred spacious fields close to nature, outside of the Chengdu urban area. Spots like a dilapidated amusement park in Pidu District,  was frequented by them who carried along their slackline equipment Hanging in the air and exploring this city, they were endowed with a unique perspective ofChengdu.
Breannah把期间的一些经历的视频上传到Youtube上,名字就叫:成都扁带森林(Chengdu Slackforest)。
Breannah has uploaded some videos about her practicing experience to Youtube and named the video Chengdu Slackforest.
空中冥想 
Meditation beyond the earth
13岁时,Breannah在攀岩馆偶遇Alex Mason在扁带上做技巧训练,一时的好奇促成了她8年的坚持和热爱。第一根扁带很低很短,她甚至没办法站上去,后来才开始渐渐地摇晃向前,像婴儿学步。四五个月后,她参加了第一场比赛。
When Breannah was 13 years old, she happened to see Alex Mason training on a slackline in a climbing gym. Since that moment, curiosity has started her eight year journey of perseverance and devotion to slacklining. Even though she started with a very short slackline hung very low in the air, she could hardly stand on her feet. Little by little, she was able to wobble ahead step by step like a toddler. After four or five months, she attended her first contest.
"我从不因为动作没做到而气恼,我知道通过练习我终究会做到的。"这种坚信是源于对自己天赋的认知? "天赋呀,有人这么说,但我觉得任何人都可以做到,只需要练习。" 她说,"很多人认为我是平衡力很好才开始做这个运动,其实是这项运动让我的平衡变得很好。"高中时,每到周末,Breannah 都会乘一个半小时的地铁,去离旧金山较近的埃尔塞里托进行两天的训练。她不觉得辛苦,反而乐在其中。"当我在空中的时候,我能够如我预想那般恰如其分地控制我的身体动作。有趣的是,这时候的我最开心了。"
"Even if I fail to do well in some footwork actions, I have never been seized by anger, for I know I will eventually make it." Was this firm belief rooted in the full awareness of her talent? "Some people said so. But, from my perspective, it is continuous practice rather than talent that makes one get the hang of slacklining." "In the eyes of many people, my good balance initially drove me into the sport. However, the fact is just the opposite. Thanks to the sport, I have grown better in keeping my balance."In high school on weekends, Breannah used to take an hour and a half subway ride to El Cerrito, near San Francisco, for the two-day training. Instead of tiredness, she found great pleasure from that. "When I am in the air, I am able to control my body movements precisely to how I imagine. It's interesting that this is the moment in which I am the happiest ."
旁人看高空行走或花式技巧时,既刮目相看又心中一紧,其实Breannah 脑中一丝杂念都没有,只享受美景中的那个瞬间。"人们觉得这很危险很疯狂,其实那一刻我沉静、专注并且享受,像是一种冥想。" 高空扁带的玩家在练习和比赛时都会系上救命索。"如果我很紧张,就会掉下去,感受下坠。 这让我知道,其实掉下去没什么大不了的。"
While spectators are watching highlining or slacklining with tricks, their hearts are filled with surprise and nervousness. However, for Breannah, free from any worry, she just takes the moment to enjoy the uniquely beautiful scenery. "People think it is dangerousand crazy. But, for me, at the moment,I am just calm and absorbed, it likes a kind of meditation. I enjoy it a lot." High slackline (Highlining) athletes are tied in with safety rope during walks. "If I feel nervous, I resign myself to falling from the slack line, savoring the sensation of falling. And it dawns on me that falling from the line is not a big deal at all."
绳行世界
The World of Slacklining
体格偏小的Breannah本很容易淹没在机场的人来人往中,但她背着装有扁带器具的巨大背包总是引来注目。比赛+旅行的生活常态在她13岁时开启,最初去陌生城市她也会胆怯忐忑,但想到那儿有玩扁带的朋友,一下子就心安了。这种信任变成了一种习惯,走扁带早已从一项特别的运动变成了一种生活方式。因着扁带,她的足迹从加州走向美国各地,并走向海外。当她不在旅行的时,她在圣路易斯-奥比斯波(San Luis Obispo)的大学城玩扁带。
With a small figure, Breannah was able to slip out of sight in the stream of peoplein the airport. However, a large backpack loaded with slackline equipment always made her stand out easily. Since she was 13 years old, she has lived a regular life of contest and travel. At the beginning, she was also timid and worried when she went to a strange city. But when she thought about other like-minded athletes there, she would feel greatly relieved. As this kind of trust gradually developed into a habit, slacklining has taken root in her heart as a lifestyle, no longer a special sport. Driven by enthusiasm for slacklining, she has expanded her footprint across California, as well as many other parts of the United States. When she is not traveling she is slacklining in her college town of San Luis Obispo.
四个月的居蓉生活,远不止一次旅行。除了爱上了火锅,成都成为她了解中国文化和亚洲扁带社群的临时大本营。Breannah带着她去中国香港的狮子山走扁带,在泰国的甲米府攀岩、划皮划艇、悬崖跳,以及少不了的玩扁带。在离开成都回美国之前,她还去广州进行了为期两周的训练,与在中国旅行时结实的朋友们一起。
Her four-month stay in Chengdu was not merely just for travel. Here, she got a taste for spicy hotpot; here, she established temporary headquarters to learn about her Chinese culture and the Asian slacklining community. Driven by enthusiasm for slacklining, she hiked and highlined over Lion Mountain of Hong Kong and climbed, kayaked, cliff jumped, and of course slacklined in Krabi Province of Thailand. Before leaving Chengdu to return to the United States, she went to Guangzhou for two-weeks of training with friends that she has met in her China travels.
她希望此生永远也不要停下旅行的脚步,就像户外摄影师Chris Burkard 那样。
She hopes that she will never stop traveling in her life, just like how outdoor photographer Chris Burkarddoes.
链接 LINK
USAC:大学国外研究同盟,University Study Abroad Consortium的缩写。
USAC: USAC is the abbreviation of University Study Abroad Consortium.
走扁带,又叫走绳,行走于固定于两点之间的扁带上,扁带一般使用26毫米宽、3毫米厚的尼龙扁绳索,因而在行走过程中极不稳定。 玩家可不甘于只是脱离地面走一走,于是越走越高,便是"高空扁带";若是技巧百出,则是"花式扁带"。 它挑战体能、平衡力,还有心理素质。与走绳索(rope walking)这种有着上千年历史的运动不同,当代走扁带运动追溯于1979年。 最初,走扁带是作为提高攀岩者平衡力的训练项目。
Slacklining, is a sport about walking on a line fixed between two spots. Generally, the slackline is a flat nylon line, 26 mm wide and 3 mm thick. Therefore, walking on this line can be very unstable and very challenging. Reluctant to just walk above the ground, some slackline athletes go higher and higher and longer and longer. Subsequently, "highlining" comes into being; with a dazzling display of fancy footwork, "trickslacklining" emerges. This sport is not only a challenge to physical and balance ability but also a mental challenge. Unlike the rope walking steeped in a history of over one thousand years, modern slacklining only dates back to 1979. Inits infancy, slackliningwas just a project to train the balance ability of rock-climbers.
※
柯扬,在荒郊野岭种一颗梦 Jan Karlach, Cultivating a Dream in the Wilderness
采访时间:2013年7月 Interview Date: July, 2013
柯扬:1983年前出生于捷克共和国布拉格。2006年第一次以背包客的角色来中国,2007年放弃IT专业,在布拉格查理大学东亚系学习汉学,同年第一次来成都旅行。2009年—2011年,在四川大学学习中文,并对凉山的彝族和周边的摩梭族产生浓厚的兴趣并深入研究,2012年7月,出版第一本书 Střípky z jižního Podnebesí(捷克语)。他希望从汉文化主宰的文化意识形态中,寻找到拾回传统的中国梦。
Jan Karlach: whose Chinese name is Ke Yang, was born in Prague, Czech Republic, 1983. He came to China for the first time in 2006 as a backpacker; in 2007, as a student at Charles University in Prague, he changed his major from IT to sinology of Department of East Asia and came to Chengdu for the first time. From 2009 to 2011, he studied Chinese at Sichuan University, during which he started to pay much attention to the Yi nationality in Liangshan and Mosuo nationality in its surrounding areas and deeply researched them; in July 2012, he published his first book Střípky z jižního Podnebesí in Czech. He hopes to rediscover traditional Chinese dream that lies in a cultural ideology dominated by the Han people's culture.
https://www.karosh.net/
※
边缘产物是文化核心的一面镜子
Marginaloutcome is a mirror for cultural core.
与其做梦,柯扬更喜欢探索和尝试。这促使他的兴趣爱好涉猎很广,从古生物、地理学、音乐到旅行、人类学、当代文学、摄影等等,善于跨学科思考的他喜欢回归自然,他说:"在富有生趣的自然和人文景观的乡间漫步,所来带的开心是世界上任何其他事都不能等同的。"凭借这种"乡村痴汉"情结,2009-2011年在四川大学学习汉学期间,柯扬行走至中国西南部很多"荒郊野岭"。当喜欢探索"非主流"文化和边缘产物的柯扬,发现被汉文化包围影响的彝族和摩梭族,依旧努力按自己的方式生活时,他被这种坚持和固执所着迷。
Jan Karlach prefers discovery and trial to dreaming, so he shows interest in many fields – paleontology, geography, music, traveling, anthropology, contemporary literature, photography, etc. He is good at interdisciplinary thinking and likes nature. He said: "when walking in countryside with vital nature and cultural landscape, I can feel a joy that cannot be brought by any other thing in the world." With such a complex of "passion for countryside", during his study of Chinese at Sichuan University from 2009 to 2011, Jan Karlach walked to the "wilderness" in southwestern China. When Jan Karlach, a young man who loves to explore "non-mainstream" culture and marginal outcome, found the Yi people and the Mosuo Nationality who are surrounded by Han culture leading life in their own way, he was attracted by such an adherence.
"像凉山这样的少数民族地区对中国历史而言,与文明社会的文化核心居于同样重要的地位。边界和偏远地区的产物实际上是文化核心的一面镜子。"柯扬认为:"边界通常是各种有趣事物的繁荣之处,它会自主生成一个大熔炉,无论是文化、地理还是民俗,将思想、概念、精神在交汇和碰撞中变化成长。纳西族和藏文化的共存,摩挲族与彝族的相互影响,皆是如此。"
"Throughout Chinese history, minority areas such as Liangshan played an equally important role as that of cultural core of the civilization. The outcomes in boundary and remote areas actually are a mirror for the cultural core." According to Jan Karlach, "Usually, boundary is home to interesting things and will autonomously become a melting pot, where thought, concept, and spirit develop together through communication and crash no matter in terms of culture, geography, or folk customs, which can be evidenced by the coexistence of the Naxi nationality and Tibetan culture and the interaction between the Mosuo nationality and the Yi nationality."
城市化进程需要承上启下
The urbanization requires succession and creation.  
柯扬举例说:"捷克人喜欢喝捷克啤酒,就像四川人喜欢喝茶打麻将,但是大部分人对自己的传统知之甚少。这个时代非常具有侵略性,它让传统文化退居其次。"他曾经去到四川自贡的牛佛古镇,被古老的茶馆和旧建筑所吸引,而当他与当地人交谈时,他们大多对此"落后"、"破旧"和"迷信"的建筑感到羞愧,而横跨于小镇上面新建的混凝土桥被视作"美丽"的象征。
Jan Karlach said, "Czechs loves Czech beer just like Sichuan people enjoy tea and play Mahjong. But most people know little about their own tradtion. The era is obviously marked with aggressiveness and tradition is forced to take the second place." He oncewent to Niufo Ancient Town, Zigong, Sichuan and was attracted by the old tea houses and architectures there. When talking with locals, he found that most of them thought that the "backward", "shabby", and "superstitious" architectures are a shame and the concrete bridge over the small township a symbol of "beauty."
这类现象在柯扬看来,是中国当下的一种对传统认知的缺失,而中国的"文化认同危机"(cultural identity crisis)迟早会被越来越多的人谈起。全球皆被快节奏的消费社会所侵蚀时,捷克的情况并非好于中国,只是令柯扬感慨的是:"捷克国人关心历史和文化遗产,为此感到骄傲,并珍惜它。"进行跨学科研究的柯扬理解文化"同化"的自然属性,他说:"这是人类历史中持续发生的状态,只是现代化的进程需要与传统文化手牵手,需要更多的承上启下。"
In Jan Karlach's opinion, such a phenomenon embodies poor understanding of tradition in today's China and China's "cultural identity crisis" will be mentioned by an increasing number of people sooner or later. The whole world is being eroded by fast-paced consumer social culture and the condition in Czech Republic is not better than China, but Jan Karlach also sighed: "Czechs care about history and cultural relics, and feel proud of and cherish them." Jan Karlach's inter disciplinary research helps him understand that "assimilation" is the natural quality of culture. He said: "It continuously happens in the history of human beings, but modernization needs tradition and more succession and creation."
"在我来中国之前,大家告诉我亚洲人的情感表达是温和有节制的,可我所见到的中国人非常有情感,愿意为梦想奋斗。保护文化唯一的方法是文化携带者拥有强大的意志力。"柯扬说起在《Vice》杂志上看到的关于崔健的一个采访,崔健说:"国很大,有非常好的文化。儒家教育人们如何与他人为善,却没有告诉人们如何善待自己。我们在寻找自我的路上迷失了,这是文化中很糟糕的部分。"而后,一直严肃的柯扬打趣地说:在中国传统文化的传承中,至今保持丰富鲜活的、或许永远不会消失的,当属中国美食。
"Before coming to China, I was told that Asian people expressed their feelings in a mild and restrained way. But the Chinese people I have met are very sentient and willing to strive for their dreams. The only solution for protecting culture is the strong will of cultural carriers." Jan Karlach mentioned an interview with Cui Jian on Vice, Cui Jian said: China is big and it has really a beautiful culture. Confucius teaches people, how to be nice to other people, but doesn't teach people, how to be nice to themselves.We have totally lost the direction about searching ourselves. This is the bad part of the culture. And then, Jan Karlach abandoned his serious expression and had the funny viewpoint: Food is the only Chinese tradition that is still plentiful and alive and may exist forever.
链接LINK
崔健在采访中的原话如下:"中国很大,有非常好的文化。儒家彻底摧毁了中国文化,这是中国最坏的部分。儒家教育人们如何与他人为善,却没有告诉人们如何善待自己。我们在寻找自我的路上迷失了,这是文化中很糟糕的部分。大家不要听他的,他是一个古人,出生在两千年以前,在他的那个时代,他说得对,但是不适合于当下。"
Cui Jian said on Vice:"China is big and it has really a beautiful culture. Confucius has totally destroyed the culture of China. It's the worst part of China. Confucius teach people, how to be nice to other people, but doesn't teach people, how to be nice to themselves… We have totally lost the direction about searching ourselves. This is the bad part of the culture. People, don't listen to him! He is an old guy, born 2000 years ago. For his age, his teachings were OK, but not for now."
※
Jef Vreys,成都小众音乐在变脸 Chengdu Underground Music is Unveiling New Faces
采访时间:2016年8月4日  Interview Date: August 4, 2016
Jef Vreys:比利时人,毕业于中国历史专业,曾在四川大学进修中文,2007年起开始居蓉生活。2009年,创办独立音乐厂牌NewNoise,为小而特别的中外乐队搭建海外演出平台,将诸多国外大牌乐队带来中国演出,尤其是成都。
Jef Vreys: Belgian, a Chinese history major graduate. He once studied Chinese in Sichuan University and has been living in Chengdu since 2007. In 2009 He founded his indie music brand NewNoise, which offered overseas performance platforms for small yet distinctive bands that are either from China or from other countries.  He has brought many big foreign bands to China to perform, especially to Chengdu.
http://newnoise.cn/
※
如果说"地下音乐",大众难免会有先入为主的误解——黑暗、非主流、反动等等,然而,地下音乐的特性更准确的近乎是:独立小众传播、与商业音乐对抗、具有先锋意味。
Underground music may strike one as being dark, non-mainstream and rebellion. However, a more precise definition would be the music that circulates in small groups, rebels against commercial music and acts as a pioneer.
独立音乐,灵魂在相互寻找
Independent Music Searches for its Soulmate
2007年,比利时小伙Jef来华留学,在北京大学、清华大学和四川大学之间选择了有着许多旅游景点的后者,也因为他想避开2008年北京奥运会涌动的外籍大潮,感受新旧交融的中国人文。学习期间,Jef就喜欢去小酒馆看演出,他回忆道:"那时候最火的也就属小酒馆了。"
In 2007, a Belgian guy Jef came to study in China. He chose Sichuan University situated in Sichuan, which is home to many tourist attractions over Peking University and Tsinghua University – on one hand, he wanted to avoid the foreign visitors that flooded into Beijing for the Olympic Games in 2008 and on the other hand, he thought that he could experience  Chinese culture featuring the blend of the old and the new. During the study, Jef used to watch performance in small taverns. "Small taverns were the people's favorite," recalled Jef.
8岁那年,Jef随父亲看了第一场地下音乐演出,开启了对音乐不一样的偏好和感知。15岁时他在乐队The Maple Room担任贝斯手,并策划了人生第一场演出。Jef的音乐志趣与中国市场的发展潜力促使他成立了自己的独立音乐厂牌NewNosie,其名出自Refused乐队的一曲歌名,代表着一种鲜明的音乐态度——主流的电视广播和商业化使音乐趋同,我们应该创造不一样的音乐,新的声音。
At the age of eight, Jef's father took him to see an underground music performance, which was the first time he had ever seen anything like this. Ever since then, he began to develop his unique preference and perception of music. At the age of fifteen, he was the bass player in a band called The Maple Room and planned his very first concert. Jef's music interest and the development potential in the Chinese market urged him to found his indie music brand NewNoise, which got its name from the song of a band called Refused. It represents a distinct music attitude: instead of being assimilated by mainstream TV broadcast and commercial music, we need to create different music and new voices.
Jef成为游走中外地下音乐界的乐队经纪人,将国外乐队带来中国,比如MONO、冰岛的Múm乐队;将成都乐队带去欧洲,比如惘闻。相似的灵魂总是在寻找着相遇的契机,多元的音乐吸引着彼此的交流和碰撞。Jef说:"地下音乐更像是一种运动,它更加独立小众,正在被越来越多的人理解和接受,它依旧有别于普罗大众喜欢的主流音乐。"
Jef became a band agent who shuttled through Chinese and foreign underground music circles and brought foreign bands to China, such as MONO and Iceland-based band Múm. He also brought Chengdu bands to Europe, such as Wang Wen. Similar souls are always looking for opportunities to collide and diversified music trigger mutual communication and exchanges. "Underground music is more of a movement. As much as it reaches only a small crowd, it is now being accepted and understood by more people. Yet it still distinguishes itself from more popular mainstream music," said Jef.
如期所料,这确实并非易事,第一次带比利时的一支乐队来中国演出,Jef花了半年的时间进行前期联络。即使发展至今,业界小有名气的Jef在给乐队发出第一封联络邮件时,除了介绍自己、公司、合作过的乐队,更多的内容是关于中国和成都。毕竟,中国,尤其是西南城市成都,对于很多国外乐队而言,依旧是一个遥远、陌生的神秘名字。
As it turns out, it is not a piece of cake. The first time Jef brought a Belgian band to China for performance, it took him half a year to make it happen. Even now, Jef, a minor celebrity in the industry, introduced more about China and Chengdu other than himself, his company or partner bands in the first mail he sent to the bands. After all, China, especially Chengdu, a city located in Southwest China, is still a mystery in the eyes of many foreign bands.
成都制造,暗涌的音乐热潮
Made in Chengdu – The Music Trend on the Rise
2009年居成都至今,Jef全触角体会到了成都地下音乐市场的变化。"成都的音乐氛围很好,乐队之间互相捧场帮忙,是个有爱的大家庭。这些年来,阿修罗、声音玩具等老乐队还依旧在演出,秘密行动、荷尔蒙小姐这样的新一代音乐力量也在蓬勃生长。新乐队大多有专业的音乐学习背景,他们的出现让老乐队更加努力,竞争氛围也很好。"如今,成都地下音乐的风格从新金属到电音、Indie等更加多元,演出场所也不再局限于酒吧,城市里有了更多的新空间。2007年之后成都有了音乐节,热波、大爱、草莓……听众对"地下"的认知在更新,越来越多的人喜欢上这种"小众"。
Since he settled in Chengdu in 2009, Jef  has completely experienced the changes in Chengdu's underground music market. "Chengdu has a good music vibe; bands show up and root for each other, which together make a harmonious family. In the past few years, old bands, such as Asura and Sound Toy still did gigs while new generation bands like Stolen and The Hormones were booming. Most of the new bands have professional music background, whose development  drives old bands to work harder," said Jef. Now, Chengdu's underground music diversified – from new metal to electronics, Indie and many other genres. Performance venues are no longer confined to pubs; the artists begin to perform in various urban places. In 2007, Zebra, Big Love and Strawberry and many other music festivals came to Chengdu. The public got to learn more about "underground music" and grew to love this type of "minority" music.
 三年前(2013年),Jef和搭档策划了"成都制造"室内音乐节,集合了成都大小名气的各种本土乐队。两年间,每场音乐节参与观众超过两千人。
Three years ago (year of 2013), Jef and his partners planned an indoor music festival called "Made in Chengdu". It gathers Chengdu's local bands, whether their fame is big or small. In the past two years, each music festival attracted more than 2,000 audiences.
在成都做外国乐队演出之难,既是地理问题,也是钱的问题。Jef说:"外籍乐队来中国内地的机票比到香港贵很多,但票价会比香港便宜很多,知名乐队想要做大型演出,对设备和空间的要求就高,成都目前还不够成熟……"
It is difficult to get foreign bands to perform in Chengdu not only because of geological problem, but also due to the matter of money. "Foreign bands have to pay more expensive air tickets to come to mainland China, compared with Hong Kong. However, they earn less from ticket income. In addition, in terms of large-scale performance, renowned bands often raise higher demands for equipment and space, but Chengdu is not yet mature enough to meet such demands," said Jef.
那么,如何吸引外国乐队?Jef 说:"我会告诉他们这将是一次全新的体验!"无论是演出本身、市场前景,或者是川菜入嘴那一口的辣,对外籍乐手都是与截然不同的经历。而且喜欢研究中国历史的Jef,还时常扮演导游的角色,给乐队介绍北京的紫禁城、成都武侯祠的三国文化等,也让乐队对中国的理解稍微深一点儿。
Then, how did he attract foreign bands to come? "I would tell them that it would be a brand new experience!" said Jef. Indeed, the performance, the market prospect and the spicy Sichuan food are unprecedented in their previous experiences. Moreover, Jef, who likes to study Chinese history, often acts as a guide to introduce Beijing's Forbidden City and Three-Kingdom culture of Chengdu's Wuhou Temple to these bands, who thus get to know more about China.
Jef对比了一个有趣的现象:"比利时的乐队如果在国内出名了,他们会尝试走出国门。但是中国多的大多数乐队没有这个意识,觉得'没人知道我们,所以我们不去',其实思维应该恰好相反——不知道,所以要去。"Jef也很清醒地知道,这背后有截然不同的生活习惯和文化差异。社会在发展,会有越来越多的人关注生活品质、文化历史,而包容的成都每天都变幻出崭新的面孔。
Jef also talked about an interesting phenomenon. "If a Belgian band becomes famous in their own country, they will seek to expand foreign markets. Their Chinese counterparts, however, don't see things this way. They believe that they couldn't go there since no one knows them yet. In fact, it should be the other way around." Jef also knows clearly that strikingly different life habits and culture underlie this phenomenon. As the society keeps developing, people will focus more on life quality, culture and history. Chengdu, this inclusive city, keeps unveiling its many new faces on a daily basis.
※
All rights reserved, contact Lenore to know more.
秦思源X声音博物馆 Colin Siyuan Chinnery X Sound Museum
采访时间:2017年6月14日  Interview Date: June 14, 2017
秦思源(Colin Siyuan Chinnery),艺术家,中英混血。8岁学功夫,12岁返英读书,上世纪90年代担任北京"穴位乐队"主唱。先后做过大英图书馆管理员、中国国家图书馆国际敦煌学项目主任、英国大使馆文化教育处艺术项目总监、尤伦斯当代艺术中心副馆长、上海博览会国际当代艺术展总监。
Colin Siyuan Chinnery is an artist of mixed Chinese-British heritage. He learned Chinese Kung Fu at the age of eight and went back to the UK for school at the age of twelve. In the 1990s, Chinnery was the singer for the band "Xuewei" in Bejing. Later, he served as a researcher at the British Library, Head of the International Dunhuang Project of the National Library of China, Arts Manager for the British Council in Beijing, Deputy Director and Chief Curator of Ullens Center for Contemporary Art (UCCA) and Director of ShContemporary art fair in Shanghai.
※
秦思源好几次采访都提到,北京的鸽子不一样,它们背上拴着哨,飞翔的风中传来独一无二的北京声场。在他看来,每段历史,每个城市,都有其专属声场,那是生活在时下的人所演绎的声音历史。
In previous interviews, Chinnery has said several times that pigeons in Beijing are different to other places, for there is the tradition of attaching whistles to their backs which generate a unique sound while they are flying. From his perspective, every city boasts its own sound properties. It is a sound history created by the people who are living at each moment.
记录一座城市的声场史
Recording the History of a City through sound
秦思源出生于文化世家,其父是英国汉学家秦乃瑞(John Chinnery,1924-2010),其母陈小莹是陈源(笔名陈西滢)与凌叔华之女。外祖母与林徽因、冰心齐名为"民国三大才女",外祖父曾是鲁迅文学上的主要论敌。
Chinnery's family has a rich background in culture. His father John Chinnery (1924-2010) was a British sinologist, and his mother Hsiaoying Chinnery is the daughter of Chen Yuan (also known as Chen Xiying under the pen name) and Ling Shuhua. His grandmother Ling Shuhua, together with Lin Huiyin and Xie Wanying (Bing Xin), are acclaimed as the "Three Talented Women of the Republic of China," and his grandfather Chen Yuan was a major literary opponent to Lu Xun, one of the greatest writers in contemporary Chinese history.
他的外祖父母曾居住的北京史家胡同,于2012年在英国查尔斯王储基金会资助下,改为博物馆。作为视角独特的艺术家及院落居住者的后代,秦思源成为博物馆的顾问,受2004年《都市发声》策展经历启发,秦思源建议体现老北京的声音文化。
His grandparents once lived in Beijing's Shijia Hutong, which was transformed into a museum in 2012 with funding from The Prince's Charities Foundation. As a descendant of the house's old owner and an artist with a unique perspective,  Chinnery was selected as the consultant of the museum. Inspired by his curating experience for Sound and the City, Chinnery put forward the idea of presenting the unique sound culture of old Beijing.
一隅不过五六平方米的小屋子,"装"了上百种声音。清晨卖烧饼的吆喝、磨刀人的板拍铁、缝纫机的"嗒嗒"、女孩儿跳绳时哼的歌、有轨电车的售票员的报站声……这些已经消失或正在消失的声音正是我们历史的一部分。秦思源说:"声音和气味是一种直觉的记忆。通过声音的记录,让客观的历史变成个人的历史。"
In a room less than five square meters, there are hundreds of different sounds: the yelling of Shaobing hawkers in the early morning, clangs of grinders, the clatter of sewing machines, songs of girls skipping rubber bands and station broadcasting of ticket sellers in trams. Those sounds that have disappeared or are disappearing are parts of Beijing's history. Chinnery said: "Both sounds and smells are intuitive memories. And records in sounds can transform an objective history into our own personal histories."
用耳朵观察世界
Discovering the World with Our Ears
三年前史家胡同博物馆里的这个声音项目拓展成一个声音博物馆的想法,可是因为资金有限,秦思源不得不暂停收集新声音。他说,很多朋友乐意帮忙,但这种方式持续性不够。直到今年,声音博物馆再启向前,秦思源的项目具象为两个方面,一是以主题和时间节点为线索,整理记录北京上个世纪30-90年代的声音历史,以录音师、IT人士、历史学家等专业合作为主,与北京的古玩收藏以及各行各业的声音见证者合作。此外,他还有一个名为"Embodied Sound"的国际当代艺术项目,对全世界的公众开放,希望普通人去记录当下身边的声音,用耳朵观察世界。
Constrained by a lack of funds, Chinnery had to stop collecting more sounds three years ago. He explained that many friends were willing to help, but this wasn't a sustainable way to develop the project. However, his idea had developed into a conceptual sound museum, which he has started to develop in earnest this year. His new project can be considered as two parts. Part one is to collect and record sounds of Beijing in 1930s-1990s under different of themes and timelines. This part will be guided by a professional team consisting of sound engineers, IT engineers, and historians, and will be joined in by antique collectors of Beijing and sound recorders from all sectors. The other part is an international contemporary art project called "Embodied Sound", a project open to all people across the world. Chinnery hopes that the public can join in the art project to record sounds around them and to discover the world with their ears.
"最早,手机是用来听的,现在都是看。拍照片、录视频发朋友圈分享,而后眼前这个被拍物我们就不在乎了,而是关心谁给我点了赞。"秦思源说:"这是社会的变革,也是我们在慢慢退化,丧失对世界的第一手接触。假如脱离日常惯性,用耳朵来接触世界,可能会遇到一些惊喜,发现意想不到的周围。"
"The phone was used for listening but now is for taking photos and videos. After sharing those photos and videos in WeChat, people forget them and then only care about those Likes," said Chinnery, "this is the symptom of the times and is also a demonstration of losing our first-hand experience of the world. If we put aside those daily routines and use our ears to interact with the world, we may find something exciting and unexpected."
声音构建的时间隧道
Time Tunnel of Sound
北京以前的出租车打表器会播放一段小旋律,声音一响起,就把秦思源拉回了21世纪初的背景中。"回忆得非常直观,整个身体都回去了。"他思索着,若是复制更多别的声音,别人也能有怀念有共鸣,也能进入过去的音域中。对声音的复制,其实是个时间隧道。
Years ago in Beijing, the taxi meter would play a jingle for the passengers. Every time the music starts, it would take Chinnery back to the beginning of the 21st century. "The memory is easily perceived and my whole body is taken back to the time of that sound." He wondered that if more duplicated sounds could be made, will they arouse other people with the same resonance? Will those sounds bring people into the past time as well? Actually, Chinnery understands that the reproduction of sounds is the weaving of a time tunnel.
1857年,法国发明家里昂·史考特(Leon Scott)发明了Phonoautograph声波振记器,这机器也只能记下声波形状而已。可见,声音记录史不足两百年,声音作为珍贵的载体,对世界影响甚远。秦思源说:"我只能回溯到民国时期,必须有活人来考证。如果有人记得溥仪小时候在皇宫说话的样子,他得有100多岁了。"
Although Frenchman Leon Scott invented the Phonautograph in 1857, it only transcribes sound waves as undulations or other deviations in a line. It indicates that the history of the sound recording is not as long as 200 years. However, sounds as precious carriers have a far-reaching effect on the world. Chinnery said: "I am only able to find sounds dating back to the Republic of China. But these sounds still need the input and feedback of people still alive. If somebody could remember the voice of the child Puyi (the last Emperor of China) in the Forbidden City, he/she must be well over 100 years old by now."
是否有声音是不需要存在的?比如说噪音。对于这个问题,秦思源快速回说"没有",并强调:"声音不是独立存在的,总有一个发声物,你可以说汽车鸣笛可以不存在,可你能说汽车不需要存在吗?"之所以有Embodied Sound这样社会参与的项目,也可以让我们在不断改造我们的世界的时候,有一种意识——我们还可以有更多好声音。
Regarding the question whether there are such sounds that do not need recording, like noises. Chinnery answered without hesitation "No." He stressed that "Sounds cannot exist without sound sources. We can say that a car horn does not need to exist, but can you say that the car does not need to exist?" That is why social engagement projects like Embodied Sound are launched. By taking part in those projects, people can have the consciousness that while the world is changing, there are still more good sounds need to be recorded.
※
 All rights reserved, contact Lenore to know more.
何伟:在小城消失,像影子一样记录 Peter Hessler, Fading away in the town, recording like a shadow.
采访日期:2016年9月13日  Interview Date:September 13, 2016
Peter Hessler(彼得·海斯勒),中文名何伟,阿拉伯名字Boutros,美国作家与记者。被《华尔街日报》赞为"关注现代中国的最具思想性的西方作家之一"。毕业于普林斯顿大学及牛津大学,曾为《华尔街日报》、《国家地理》等刊物自由撰稿,"当代中国三部曲"《江城》、《寻路中国:从乡村到工厂的自驾之旅》、《甲骨文》是其代表书作。2000-2007年,他出任《纽约客》驻北京记者;2011年秋天至2016年夏天,移居埃及,任《纽约客》中东记者。
Peter Hessler, with a Chinese name "He Wei" and an Arabian name "Boutros", is an American writer and journalist. He is crowned as "one of the most insightful western writers with interest in modern China."  Graduating from Princeton University and Oxford University, he has contributed numerous articles to Wall Street Journal and National Geographic, among other publications. His representative works include River Town, Country Driving: A Journey from Farm to Factory and Oracle Bones, which are called "the trilogy of contemporary China". From 2000 to 2007, he served as journalist of The New Yorkersin Beijing. From the autumn of 2011 to the summer of 2016, he migrated to Egypt and served as journalist of The New Yorkers in the Middle East.
※
对于中国的海外报道中常出现的严声批判,不少中国人爱拿"这些外国人不懂我们中国"作为置之不理或义愤填膺的挡箭牌。美国作家及记者何伟(Peter Hessler,中文文稿用其中文名)的当代中国三部曲,让不少中国读者深感:他甚至比很多中国人都更了解中国。
As for the criticism frequently occurring in overseas coverage of China, many Chinese people use "These foreigners know nothing about China" as an excuse to turn a cold shoulder to the coverage. Peter Hessler, an American writer and journalist, impresses many Chinese readers with his trilogy of contemporary China. Many readers feel that he has got a better understanding of China than many Chinese people.
※
2016年,成都秋夜,一场关于"20年后重返中国"(Coming back China after 20 years)的讲座上,何伟在今年夏天结束五年的埃及生活,久别来华。现场座无虚席,中外读者齐聚,对他们而言,能见到何伟确是一件激动人心的事情。
On an autumn evening in Chengdu in 2016, a lecture themed by "Coming Back China after 20 Years" was held. Peter Hessler came back to China after bringing his 5-year life in Egypt to a close this summer. With all seats occupied, the lecture attracted readers from home and abroad. It was so exciting for them to see Peter Hessler.
从90年代的中国"冒险"开始 
The Story Begins with the "China adventure" in 1990s
1996年至1998年,何伟以美国和平队志愿者的身份派往重庆涪陵师范学校(今长江师范学院)任教,与大多数前来中国的志愿者一样,他不曾想到会与中国产生长久的关联。他说:"90年代的中国不是什么大角色(big deal),不足以吸引有雄心壮志的美国年轻人,那时候,很少人有独到的视野,能预想到中国会变成今天这样。"何伟说自己来中国也并非因为视野,而是因为通过志愿者这种便宜而独特的方式。
From 1996 to 1998, Peter Hessler was sent to Chongqing Fuling Normal School (now it is named as Yangtze Normal University) as a American Peace Corps volunteer. Just like most foreign volunteers in China, never has he thought about any long-term connection with China. He said, "China was not a big deal in the 1990s. It was not attracting the young and ambitious American. At that time, only a few people were insightful enough to preconceive that China would transform like this." Peter Hessler said that the reason for him to come to China was not due to insightfulness, but because of the fact that being a volunteer was quite an economical and unique way of an exploration.
于是,当他的美国友人在为事业打拼,进行财富和地位累积时,何伟正在毫不知名的中国小城"消失两年",他不认为这是一种牺牲,反而是甘心选择的一场未知冒险。他也不曾预料到,涪陵两年,会产生《江城》这本书,也并不知道这本书一经推出即获得"Kiriyama环太平洋图书奖",奠定了他的职业和人生道路。
Therefore, when his American friends were making a living, accumulating wealth and striving for social status, Peter Hessler had dwelled in a nameless Chinese town for two years. He never considered it as a kind of sacrifice, but an unknown adventurous trip made of his own accord. He had never imagined that he would publish River Town during his two-year stay in Fuling,  part of a gigantic Chongqingmunicipality.Similarly, he had neverimagined that the book would be awarded "Kiriyama Prize (Pacific Rim)" upon being published, and then be the cornerstone for his career and life.
上世纪90年代,外教在中国还是一个新鲜的概念。但也因为身处在这样一个没有DVD、邮件、通讯不发达,大哥大全城都只有两部的1996年,使何伟有机会与身边的本地人产生亲密联系(close contact),他也得以感受到在特定年代下中国人带着温存的生活气息。
In 1990s, foreign teacher was a novel concept in China. Nevertheless, it was in 1996, when DVD was unavailable, email and communication were underdeveloped with only two cellular phones in the city, that Peter's close contact with local people was facilitated. Thanks to that, he was able to experience the special flavor of Chinese life in a specific era.
至今,何伟与教过的大概百来位学生依然保持联系,从信件、电话到邮件。表达关心的同时,这些学生也成为何伟观察中国的一个窗口。每年,何伟发送有针对性的问题给学生。前几年是关于经济,何伟希望通过他们了解中等收入人群(Medium Income)的情况。何伟说:"1998年毕业后的大部分学生当了老师,那时平均年收入大概是500美元,前两年,大部分学生如今的收入超过16000美元/年,平均年收入大概是20000美元/年,这是一个巨大的飞跃。当我问学生如何看待自己的社会地位(Social Class)时,70%的学生回答是'下层阶级'(Lower Class)或者是'贫穷'(Poor),甚至不少学生说自己是无产阶级(Proletariat),但是无论从任何定义而言,他们都可以说是中产阶级。其中一个学生的年收入50000美元,他的孩子读私立学校,他有三套房子、有车,且没有任何负债,但是他依然说自己是'下层阶级'。"
So far, Peter Hessler has kept in touch with over 100 students, through letters, phone calls and e-mails.While caring for them, the contact with the students has been a window for Peter to observe China. Every year, Peter sent targeted questions to students. Several years ago, the questions were about economy. Peter wanted to get a better understanding of medium income group. He said, "Most of the graduates in 1998 became teachers, with an average annual income of about 500 USD. In recent years, most students' annual income has reached over 16,000 USD, and the average annual income has been 20,000 USD. What an impressive leap! When my students were asked how they describe their own social class, 70% of them answered "lower class" or "poor", and many of them even called themselves "Proletariat". Nevertheless, by all definitions, they can be labeled as a middle class group. One of my students, without any debt, has an annual income of 50,000 USD, with a car, three houses and a child studying at private school. But he still asserted that he was among the lower class group.
"生活已经改变了,但是人们大脑层面的设定需要时间来调整(Mind set takes time to readjust)。"何伟如是说。
"Life has changed, but mindset takes time to readjust," said Peter Hessler.
链接LINK
根据瑞士信贷银行发布的《全球财富报告2015》,中国中产阶级人数达到1.09亿人,虽然只占全国成年人口的11%,但却超越美国的9200万人,成为全球中产阶级人数最多的国家。
According to the Global Wealth Report 2015 released by Credit Suisse, the number of Chinese middle class reached 109 million. Although the number only accounted for 11% of national adult population, it outnumbered that of America, and China became the county with largest middle class population in the world.
疏离下的视野,以小见大的洞察
Seeing from High Above, Observing in Specific Details
离开涪陵的六个月前,在导师约翰·迈克菲的鼓励下,何伟才开始动笔写《江城》。虽然高中时他便有了作家梦,但他清楚写作是一个长期的过程,即便是知名的作家,20岁时也有写得很糟糕的。经历使写作更丰盈,更成熟。
Six months before leavingFuling, receiving an encouragementfromhis tutor John McAfee, Peter started to write River Town. Although he had dreamed of being an author when he was a senior high school student, he knew quite well that writing was a long journey. Even for famous writers, poor performance in writing was nothing new at their age of 20. It is one of the experiencesthat makes writing more full-fledged.
何伟的第四部书作《奇石——来自东西方的报道》收录了他曾在《纽约客》上发表的专栏文章,从这些精彩报道中,恰好可以一探何伟的创作视角——无论身在东方还是西方,他从不打算融入社会,而是保持疏离感,以小见大记录普通人的故事。
The articles published on the columns of The New Yorker are included in Strange Stones: Dispatches from East and West, the fourth book of Peter Hessler. Peter's creative angle of view can be seen from the wonderful coverage: He never intends to integrate himself into society, no matter where he is. Instead, he keeps aloof from society, records the stories of ordinary people and digs out inspiration from every single detail.
"所有重要的政治事件,在小城凡人背后若隐若现。"何伟敏锐冷静,保持陌生,"潜入"不同政治制度、经济文化下活生生的人与事。由此,他记录了许多普通人的故事,画家、警察、出租车司机、体育运动员、学生艾米莉、多恩医生……却让中西读者都能通过这些人物得到共鸣,或窥见世界。何伟学习中文、阿拉伯语是为了借由语言更好地了解所观察的社会,为了"异地书写而能深入其境",而非融入异国他乡,他说:"写作者寻求同理心的联系(Empathy connection),如果拥有语言技巧,会容易得多。"即便精通中文,他依旧适时运用"创造性口吃"以便于自己的观察和记录。
"All the important political events are hidden behind ordinary people's stories in the small town." Staying perspicacious, calm and aloof, Peter Hessler dives into different political systems, economy and culture. He has recorded stories of many ordinary people, including painter, policeman, taxi driver, athlete, student Emily and doctor Donne. The figures can strike a responsive chord for Chinese and western readers, and bring them closer to the world. Peter studied Chinese and Arabicto acquirea better understanding of the society that he observes, rather than to integrate into a foreign country. According to him, by virtue of language, he can write out of hometown with incisive perspective. He said, "It will be much easier for writers with language skills to seek empathy connection." Even though he's proficient in Chinese, he still utilizes "creative stammer" from time to time, in a bid to facilitate his observation and record.
作为纪实记者,何伟并没有全然运用新闻提倡的中立身份,他既把"我"的角色带入语境,加入自己的视角,又在行文时与人事保持疏离感。他说:"表达观点意见是很微妙的事情。我尽量抑制自己不去妄下定论。"何伟的非虚构写作,行文中几近白描,慎用修辞。他说:"非虚构写作不能编故事,它逼着作者不得不卖力地发掘事实,搜集信息,非虚构写作的创造性正蕴含在此间。"
As an on-the-spot journalist, Peter Hessler does not completely take a neutral stance promoted in news. He brings "I" into the context with individual perspective, and keeps distantfrom the events and figures. He said, "It is rather subtle to express opinions, and I try my best to refrain from jumping to conclusions." Peter's non-fiction writing features simple delineation and cautiously used rhetoric. "Non-fiction writers cannot make up stories. We have to dig out facts and collect information, and that's the reason why non-fiction writing is so creative."
"有人跟我说,希望拥有我的经历,希望也身在那个特定的年代,说'你有素材可以记录,我已经没有了'。但其实中国依旧魅力不减,总是有不可思议的素材,中国不会缺少故事。"
"Some people told me that they wish they could have been there and had that experience. They said 'You have something to write but I don't have anynow.' As a matter of fact, China has always been an amazing land, full of incredible materials."
※
All rights reserved, contact Lenore to know more.
"大黄鸭之父"霍夫曼:大男孩和他的大伙伴们 Hofman, "Father of Rubber Duck",  A Big Boy and His Big Friends
采访时间:2013年7月 Interview Date: July, 2013
弗洛伦泰因·霍夫曼 
荷兰概念艺术家。曾在大尺幅画布上画了10年油画,后以荷兰鹿特丹为基地,开始从事在公共空间创作巨大造型物的艺术项目。大型艺术已经成为他的"签名","胖猴子"(The Fat Monkey 2010年在巴西圣保罗展出)、"大黄兔"(The Big Yellow Rabbit 2011年在瑞典厄勒布鲁展出)等等,最出名的是今年在香港和即将在北京展出的"大黄鸭"(Rubber Duck),也因此,他被称为"大黄鸭之父"。
Florentijn Hofman is a Dutch conceptual artist. He made oil paintings on large canvases for 10 years. Thereafter, based in Rotterdam, Netherlands, he began to work on giant models in public spaces. Large art works such as "The Fat Monkey" (exhibited inSao Paulo, Brazil in 2010) and "The Big Yellow Rabbit"(exhibitedin Orebro, Sweden in 2011) have become his signature works, among which "Rubber Duck", which was exhibited in Hong Kong and scheduled to be exhibited in Beijing, is the most famous. That's why he is popularly known as the "Father of Rubber Duck."
https://www.florentijnhofman.nl
※
2013年于霍夫曼而言,是重要的一年,已过而立之年的他,和他的"大伙伴"们终于在中国国土上"站"了起来。尤其是前身与中国有不解之缘的"大黄鸭",在距设计概念萌生的13年后,浮上了香港维多利亚港湾。
For Hofman, who is in his thirties, 2013 is an important year when he and his large creations finally gained recognition in the land of China. This was particularly so for "Rubber Duck", whose conception was indelibly linked with China. It finally appeared in Victoria harbor in Hong Kong, 13 years after the design was conceived.
此前,大黄鸭也漂流过许多国家,但对大多数国人而言,它不过是人们"澡盆戏水"的童年回忆,而且在中国,"大"可不是什么了不起的事,尤其是在公共空间,尤其是充气装置。比如,很多中国商家都喜好在店门前矗立两个甚至多个十多米的充气柱子,天空还放飞五彩的氢气球,喜迎开业。而那些看似热闹的充气装置,无疑与艺术相差甚远,更像有气无力的金箍棒,仅有扯人眼球的功力而已。于是,当2013年7月,霍夫曼来到了拥有全球最大单体建筑——环球中心的成都,他和他的"大伙伴"们,一边受到的是热烈的欢迎,一边也备受争议。
Prior to China, Rubber Duck had toured many countries, but for some, the work merely represented an oversized bathtub toy. Particularly in China, large inflatable devices are commonplace in public places. To celebrate retail store openings, for example, large inflatable pillarsare a common sight amid a rising sea of colorful balloons. These contraptions attract attention, but have doubtlessly little affiliation with art. Therefore, when Hofman arrived at the world's largest stand-alone building – the Global Center in Chengdu, in July 2013, he generated both warm welcome and controversy.
高1米93的霍夫曼崇尚"不婚主义",身为三个小孩的老爹,却依旧像个大男孩。他喜欢搜罗世界各地的玩具,喜欢将艺术与公共空间发生联系。于是他将这些玩具扩大无数倍,并以横七竖八的形式放置于公共空间,倒地的巨型兔(The Big Yellow Rabbit )、过街的鼻涕虫(Slow Slugs)、拖鞋做的大猴子(The Fat Monkey),甚至在葡萄牙将弗朗西斯科·德阿尔梅达(Francisco De Almeida,约公元前1450至1510年,葡萄牙贵族、军人和首任印度总督)的雕像贴满了彩色的橡皮泥。
Hofman, who is 1.93-meter tall, advocates a "non-marriage doctrine. " A father of three, he has the air of a big boy himself. He likes collecting toys from all over the world and connecting art with public spaces. This inspired him to create hugely magnified replicas of those toys, and displaying them unconventionally in public. His works include The Big Yellow Rabbit, which lay on its back in a town square, Slow Slugs which ascended steps towards a church, and The Fat Monkey, made from slippers. In Portugal, he even stuck colorful plasticine to the statue of Francisco de Almeida (1450 to 1510 BC, Portuguese nobleman, soldier and first Governor General of India).
这些创作手法,在拥有"全世界人均身高最高国度"之称、拥有开放艺术空间的荷兰,可谓意料之举。可当这些原本熟悉亲切的玩具,以庞然姿态出现时,难掩一种陌生,而这种似是而非的感觉便是艺术的魅力。霍夫曼说:"也许艺术家不是一个好词,但它代表发现世界的心。"
By some studies, the Dutch populace is statistically the tallest in the world. This fact, combined with the abundance of open art spaces in Holland, may shed some light on the creative impulses of Hofman. By displaying familiar toys in unfamiliar sizes the artist arouses a sense of awe from mundane objects. "Perhaps artist is not a good word, but it represents a heart that discovers the world", Hofman says.
对话霍夫曼:公共空间,以大见小 
Q:为什么艺术品的尺寸对你而言非常重要?
霍夫曼:大,首先就会抓住人们的视线,而且使人绕着这个作品走一圈,全面地观看。大型艺术作品不仅让公共空间变小了,而且让观看的人也变小了。我并不是将东西做大,而是把世界变小。
Q: Why is the size of artworksvery important to you?
Hofman: A large artwork will draw people's attention at first sight and make them walk around the work and take an overall look of it. Large-scale artworks make not only public space, but also the viewer smaller. I'm not making things big, but making the world smaller.
Q:在城市建设进程中,越来越多的艺术作品介入公共空间,对两者的交融你有怎样的看法?
霍夫曼:荷兰的公共艺术非常蓬勃,政府资助艺术家探索、发展和创造。比如,建造一所房屋需要三四百万,那么1%的资金会投入到艺术创作当中。有时候我觉得荷兰丰富的文化环境发展太过了,有些作品很糟糕。这种1%的政策对中国艺术发展倒是挺不错的,而且在建设初期就可以将艺术家、舞蹈家、音乐家的想法融入创意和规划中。
Q: In the process of city construction, more and more works of art get placed in public spaces, what do you think of their combination?
Hofman: Public art is booming in the Netherlands where artists' exploration, development, and creation are supported by the government. For example, if building a house costs three to four million Euros, then 1% of the cost will be used for artistic creation. Sometimes I think the rich cultural environment in the Netherlands is overdeveloped, and some works are awful. But this 1% policy is good for the development of Chinese art, and in the initial stageof construction, ideas of artists, dancers, and musicians can be integrated into creation and planning.
Q:你的好奇心很旺盛,在成都的短暂旅途中,你说得最多的词就是"why",请问"Mr.Why"对成都的城市有怎样的感想?
霍夫曼:当车驶过天府大道时,我被两旁高大且奇形怪状的建筑震惊了。我感叹这个城市的发展是多么迅速,当我们面临这些建筑时,自己是多么渺小,人类是多么渺小。我刚才提到的"1%的政策"也并不适用于永久性的艺术。当代艺术是短暂的,充满不断变化的新鲜感的。我希望公共空间是大家的空间,是大人们的游乐园,是让大人也有孩子那样发现的眼睛。
Q: You are full of curiosity, in the short journeyin Chengdu, what you say the most is the word "why". So "Mr. Why", how do you like this city?
Hofman: When the car passed by Tianfu Avenue, I was impressed by those grand and fantastic buildings on both sides. I think this city develops so fast, when facing these buildings, we feel we are so small, and human-beings are so small. The "1% policy" I mentioned just now is not appropriatefor permanent art. Contemporary art is transient, and is full of changes and freshness. I hope that public space belongs to everyone and is an amusement parkfor grown-ups, in where they may discover cheerful things like children.
Q:你和你的作品去过很多国家和地方,甚至有些作品是因地制宜、落地而生,你的作品在哪个国家最具影响力?
霍夫曼:不同的国家有不同的工作方式,在巴西,人们会让你等上三天,在日本,等了一分钟便开始催促你了。我每天都像生活在梦里一样,我的工作就是跟很多人一起玩耍,我是一个玩耍的大孩子。最有影响力的国度,应该叫做网络,那是我的作品被见到、去到过最多的领域。很多人意外在网上看到我的作品图便以为了解它了,其实不然,这也是我为什么不停在世界奔波,让更多人可以真实地感知我的作品。
Q: You and your works have been to many countries and regions, and some of your works are even based on and created for those places; so, on which country do your works have the most influence?
Hofman: Different countries have different ways of working. In Brazil, people will keep you waiting for three days, while in Japan, people will urge you after waiting for one minute. Every day of my life is like living in a dream, and my job is to play with a lot of people, I am a big kid who is having fun. The country in which my works have the most influence on should be called the Internet, where my works are watched and displayed the most number of times. Many people see my works on the Internet and think they have understood them, but in fact, they have not. That's why I keep travelling around the world to make people truly understand my works.
Q:其实你有很多作品都有特色,可在唯独"大黄鸭"在中国火了,大家还称你为"鸭爸爸"。你觉得"大黄鸭"在中国受到追捧,是它所传递的爱被大家了解,还是一个从众的心态?
霍夫曼:我认为两者都有,更多是作品自身的原因。我会偷偷跑到作品现场,听听大家的意见,我听到了非常多不同的声音,大黄鸭是一个充满异议的作品。
Q: In fact, many of your works are distinctive, but only the "Rubber Duck" is popular in China, and you are called "Daddy Duck." Do you think the popularity of "Rubber Duck" is because of everyone understanding the love it conveys, or just out of a herd mentality?
Hofman: Both are factors, but I think it is more because of the work itself. When I sneak to the places where my works are displayed and hear people's opinions, I hear many different voices, and Rubber Duck is one of my controversial works.
Q:有人质疑你的作品不过是"小黄鸭"的再放大,甚至觉得是一种侵权。你是怎样看待这个问题?
霍夫曼:作为一个艺术家,必须秉承坦诚和开放的态度。我的工作室有我从世界各地搜集的玩具,我受它们启发,将他们扩大,并改变它们的外貌和材料,这是完全不一样的艺术,我强调公共空间的体积和就地取材。我不是第一个做"放大"的艺术家,但是我是第一个放大小黄鸭的艺术家。小黄鸭的形象早已存在了几百甚至上千年了,当我想要做"大黄鸭"项目时,我找到几百只鸭子的形象,后来找到了"香港制造"的这一只。
Q: Some people question that your work is just the re-amplification of "Little Rubber Duck" and they even think it is a tort. What do you think of this issue?
Hofman: As an artist, I must be frank and open. There are toys collected from all over the world in my studio. I was inspired by them so I amplify them and change their appearance and materials. This is a completely different art in which I emphasize volume of public space and use of local materials. I'm not the first "amplifying" artist, but I am the first artist to amplify Little Rubber Duck. The image of little ducks has existed for hundreds or even thousands of years. When I decided to make the "Rubber Duck", I found hundreds of images of ducks until I found the one "Made in HK".
链接LINK
1992年,一艘装有2.9万浴盆玩具、且大部分为黄色橡皮鸭的货轮从中国出发,计划穿越太平洋抵达美国华盛顿州的塔科马港,途中遇上海上风暴,货柜坠入大海并破裂。经过15年的漂流和洋流作用,黄色橡皮鸭在美国和英国海岸登陆。
In 1992, a cargo shiploaded with 29,000 bathtub toys, most of which were yellow rubber ducks, set out from China, planning to cross the Pacific to reach Port of Tacoma in Washington State, USA. On the way, the ship encountered a storm, and the containers fell into the sea and ruptured. After fifteen years of drifting with the currents, those rubber ducks finally reached the shores of the U.S. and the UK.
※
All rights reserved, contact Lenore to know more.
Red Roofs of Prague
布拉格,屋顶上的几何。拍摄于2016年7月
Kid in the Woods
Dry Fish in Hong Kong
The Railway Bridge in Prague
Gallery in the Street
He Gong, the Painter
Jodhpur Dog
Behind the Bus Window
Pedastrian Crossing
Apple Girl
Photographer Xiao Quan
Water Waves of Jiuzhaigou
Shadow on a Wall
Horse with Eyes Shut by the Snow
Blue Umbrella
Birds over the Dian Lake
飞鸟,云南,2010年2月
阳台上抱小孩的女人A Women Holding A Baby At The Balcony
Jiangnan Restaurant
Street of Prague
Old Man and His Pipes
Grey Light
法国人百年前的传教之地
天早上六点半醒来,天已亮蓝,法师先生已经起来,听得见他在院子里抽水烟,水烟咕噜咕噜。他提前帮我们约了车子,就在他家门口接我们。20多公里的山路,不到一个小时就开下去了,我们又回到了丽江塔城。
一路上,田间裹着塑料布的一排排烟叶,在阳光下像满地的银子。风景依旧甚好,我内心居然有依依不舍。我跟柯扬说:"我会想念这个地方。这里跟毛里求斯一样漂亮,为什么独独对这里会有不一样的想念。或许是因为跟当地人发生了联系,或许是因为觉得毛里求斯还会回去,这里却觉得很难再辗转造访。当然厕所再好一点儿就更棒了。"
八点过吃饭早饭就在街沿边上蹲守到维西的车(距丽江塔城约100公里山路)。太阳从我们身后渐渐升起,我们脚下的阴凉被一点点吃掉,从脚尖到膝盖,而后得跳到屋檐下。已是正午,却还没有到维西有座的车,盹儿都打了好几个。后来,一辆只载着五六个人的车子终于来了。之后问乘客怎么这么少,原来是从距丽江三四十公里的鹤庆县发的车,鹤庆县和丽江之间就是丽江的机场。
车开了大概一个半小时,到了一个休息站。柯扬发现车顶有很多鸭子曲长脖子在"嘎嘎"叫唤。它们顶是晒得渴了。柯扬装了水往上喷洒,鸭子们把脖子曲得更长了。发现另一面也有鸭子,公平起见,两边都洒了。
离维西越近,越发现"现代化"的气息。柯扬问我判定标准是什么,我说"房子越来越丑"、"垃圾越来越多"。房子依然是尖尖三角,却没有了精致感,水泥墙刷成白色、淡黄色。或者是大块的水泥堆砌成,而在丽江塔城的山水,房子多用石头,天然石头尽管堆砌有序却依旧有棱有角,往顶上走,是斜斜拍成的土砖,这种朴拙而不刻意的美,很少见。
到达维西县城(维西傈僳族自治县)时,天飘起了毛毛小雨。一到站,就有个穿着红衣服短袖身子箍得圆滚滚的汉子踏上了中巴车,身后跟着几个同他一样吆喝着"巴迪,巴迪"的司机。
我最先下车,跟柯扬走在这个他七年前来过的地方——维西。那时从丽江到维西的路还没有修好,他在路上困了8个小时,到达时也是下雨天,住一个糟糕透顶的小旅馆,整个回忆都是糟。
维西也有一个塔城,但我们的目的地是有天主教堂的茨中,位于迪庆藏族自治州德钦县燕门乡,法国传教士一百多年前在这里主持修建了教堂。
要去茨中,得路过巴迪村,能不能去茨中,得到了巴迪村再看有没有车,县城距巴迪村又是100多公里的山路。在吆喝的司机中一位穿着白格子深蓝西装的女士在柯扬眼中是"最不野蛮的",于是我们坐了她的车。她是藏族人,家就住在巴迪乡,上午去维西县城下午回。没开出去多久,前面的路就被前几天的泥石流给冲断了,货车不能过,小车绕着坡度六十度以上的山路走,而后回到水泥路。山路绕着,澜沧江就在下面,有大桥在修建,也有好几处大型水电站。山脊一会儿荒秃秃的一会儿有密林,时雨时停,女司机开得很快,她接电话的好几个瞬间我们的心都非常紧张。
达到巴迪村口时,差不多七点了,已经没有去茨中的小车。好心的女司机帮我们搭了个伙,让一个戴花帽子的年轻司机多送我们一点,过了"大石头"(地名),再过了一个长长的有通风系统的有红绿灯的fancy隧道,而后我们可以自己徒步进村。于是,刚到巴迪村,就借别个酒店厕所尿一个,买了饼干就又跳上了车。
茨中村离巴迪村又大概三十公里山路,我们过了隧道没一会儿便下车开始徒步。往下走有可容汽车通过的铁索桥,高空有大桥在修建中。透过阴雨天往远处仔细望,就能看到教堂朴素淡雅的模样。蹭蹭蹭爬上山,没找住宿就奔了去。遇见了一同参观的西班牙人,住在广西柳州的导游。他说,今天星期天刚好免费,明天关门且之后要收费。我们很幸运。
参观完教堂我们找宿舍,遇见一个中国徒步者,问我们是不是明天去徒步,我们说后天再出发。他自己搭了个帐篷,推荐了我们便宜住宿,说"新开的很干净"。我们转了一圈,而后住下,吃了简单的藏餐。推门就是教堂,真好。
⛪️百度关于茨中天主教堂的信息
茨中教堂位于云南省德钦县燕门乡。始建于清同治六年(1867年),原在自菇村,法传教士主持兴建。光绪十八年(1892年)被群众焚毁,后指地为界,强征劳力、银两,于光绪二十六年(1900年)移至茨中重建。教堂包括大门、前院、圣堂、后院、果园、菜园、葡萄园、水田等,主体建筑坐西向东,为中西式结合的建筑。大门砖砌,似牌楼样式,三层,下作通道,上建攒尖顶亭阁,上置十字架。
云南迪庆茨中教堂是一座天主教堂,这座法国传教士建造的天主教堂,1905年动工,1921年修建完成,气派的教堂成为了"云南铎区"的主教礼堂。
刘昕怡Lenore 2016-6-5 于云南茨中
署明村的东巴法师
睡在山里听见鸟叫并不出奇,使我醒来的却是苍蝇,隔着帐篷嗡嗡嗡地叫,还真是大树底下好乘凉。从昨天走了一半山路起,这该死的苍蝇老在我额头上飞,喜欢我的汗臭,花露水也喷不散,用帽子轰它又迅速折返回来。那感觉,自己就是这广袤大自然的一坨新鲜的屎。(哎哟喂,不好意思今天又重口味了,不小心就在大自然沾了点儿野性。)
从依陇村往署明村徒步。先是去昨天两位老先生提到的乡政府,他们说的新修的建筑其实是东巴学校,教成年人东巴文字和相关知识。政府给的钱,说是20万。学校已经建成,等着挂牌开始使用,两城楼,下面教学上面住宿。乡书记知道我们要去署明村,推荐了知名东巴法师的和秀东先生。这些乡村上大部分人都姓和,也有姓杨的。
中途有开车的先生停了下来,问我们去哪儿,说载我们一截,可惜他的车上放满了东西,塞不下两个人和行李。他很不好意思地向我们道歉,我们一个劲儿地说谢谢。走过一截柯扬找了条清澈的小溪,接了水,用过滤器可以喝。从垭口找到了条翻山的捷径,爬坡上坎,小径全是长得任性的枝桠,期间一群张牙舞爪的树枝横在中间,把我和背包拦住,怎么凹造型都钻不过去,只得把背包卸下来,狗爬式滚过去,差点把我的暴脾气给激出来。过去后,便是一棵开满大朵大朵白色的索玛花,本想拍一下,懒得扒出相机,懊恼作罢。
总算折腾到了署明村。东巴法师家在一条小木桥的右边,他大多时候在丽江,这回回来主要是重建家里的猪圈,今儿能遇上简直是幸运。对时常有人慕名而来陌生拜访,他已经习惯了,招待我们普洱茶。他点上一支烟,放在水烟地槽子里,悠然抽着,跟我们聊着。我们翻看他珍贵的东巴经文,两块红色的板子上下夹着,一根军绿色的绳子拴起来,藏式风格。我们一本本翻着,被那些或黑白或彩色的图像吸引。柯扬很开心,这是他六年前就想要来摆放的地方,他最早开始对少数民族的文化感兴趣是因为看了哈佛大学地东巴文字扫描本。他跟东巴先生说:"能亲眼看到这些文字,我很激动。"柯扬不喜欢人们将这些文化称为"活化石",他觉得它们不是"活着的化石",因为这些文化从来没有死过。
东巴法师去过法国、德国、美国(2002年第一次)等很多国家,是丽江有专门的法式协会,有三四百个法师,但是像他这样拿了"教师级别"证得不多。大法师更是只有四个的样子。我们聊了很多,拍了很多,不同的仪式用不同的经文和不同的祭祀动物,社会上的东巴文化现象等等。起初我们还担心东巴法师会介意我们打扰他,结果他说我们可以在这里吃饭留宿。从起初的一点点陌生到放松,文化的感知让我们很快有了理解的共识。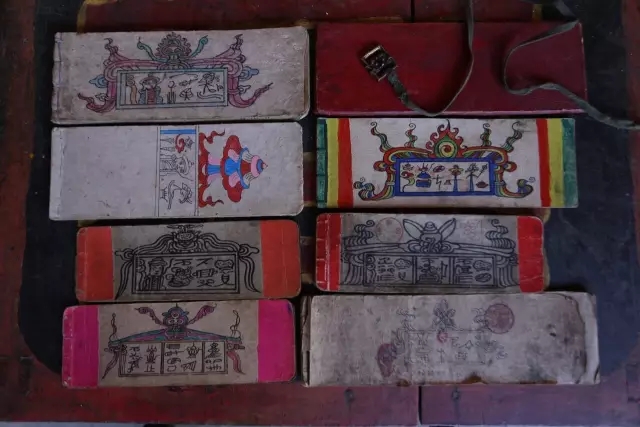 聊到尽兴,东巴法师带我们去山里走走,以为只是一个田埂圈,结果绕了小山一圈,他穿着藏红色的袍子,不管脚下是高高低低,他走得很闲适。回来后还跟东巴先生感慨说这里好安全,出门一趟家里都不用锁门。他说不担心,屋里肯定安全。想起昨天上山时,累得不行时看到有学生在吃冰淇淋,匆匆往上爬。见到一个冰箱就走了进去,小卖部没有人,后院喊了喊也没有人应答,于是决定"先吃了再付钱",就自行拨开冰淇淋打开红牛。吃着吃着我还突然想起千寻爸妈变猪的桥段。
正想着,发现他家的侧门还有一棵大树,我想要爬上去,结果真的没这技巧,法师先生马上就爬了上去,柯扬递给他水烟,他愉快地抽起来。而后我们发现了蜜蜂的人造窝,也是他家的。他从树上跳下去,给柯扬拿了一个盆子,一个钩子,然后给了柯扬一支烟,说"你对着蜜蜂窝喷一喷",柯扬说他不会,于是他递给我一坨燃着烟子的干掉的牛屎。然后法师先生说"你们去吧,我就不去了"。于是我们就去了蜜蜂窝,当然笨手笨脚的我们没熏走蜜蜂没掏到蜂蜜,匆忙跑开时还被蛰了一下。
进了屋,法师先生突然放起了磁带。一听是美国六十年代的摇滚乐,不能再赞了。他去了美国好几次,护照马上就换第二本了,在那边学术交流时,请人帮他找的磁带和美国的收音录音机。哈,好一个优雅的嬉皮士。
晚上,法师先生的妻子回来了。我们在火塘边说喝普洱吃腊肉、猪肉皮、土豆和豆皮条,还有两只猫从外面耍了回来了。饭后,法师先生给我们看仪式的碟子,祭天神、婚礼、在法国时祭自然神之类的,边看边问问题。最后,法师先生说:要睡觉了,来喝一口酒。"我说我喝小小杯,于是我的杯子里有了一两酒。法师先生的妻子说:"要睡了,不怕。"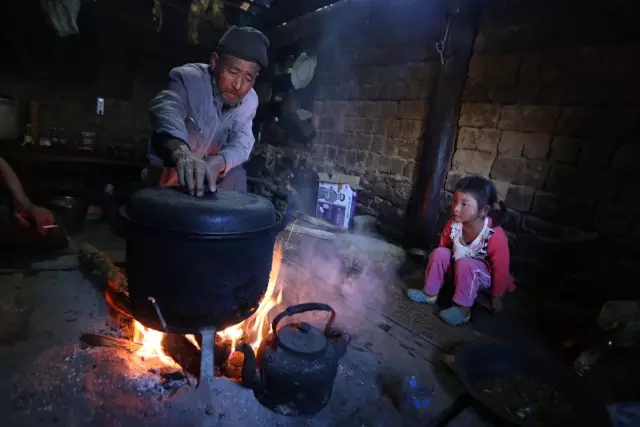 甘蓝Lenore 2016-6-4
于丽江署明村四组
Floating Green
背对着阳光的女孩 Girl Against The Sun
老人与狗 The Old Man and The Dog